OC1 digital dive watch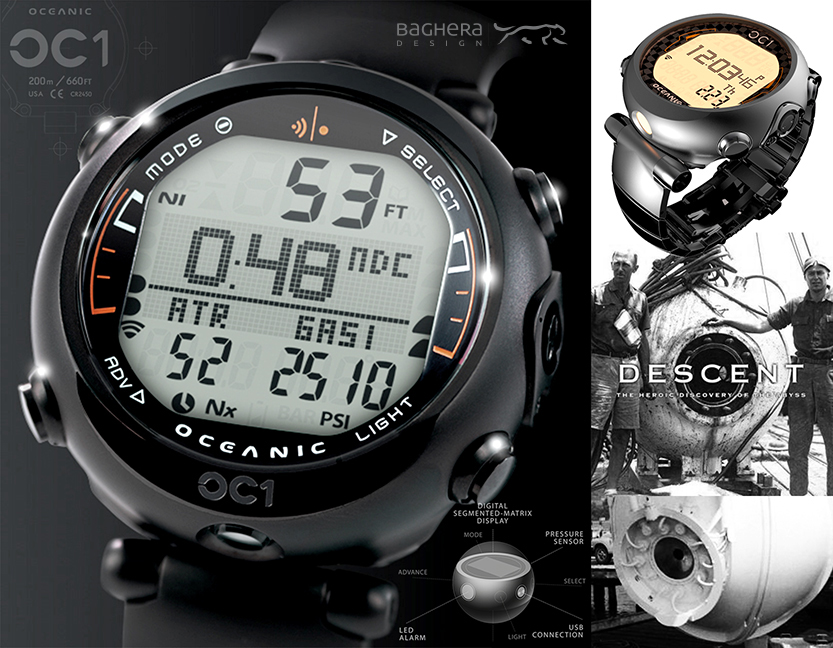 Philippe FRASCA has been collaborating with the Californian company PELAGIC PRESSURE SYSTEMS, analogic and electronic instruments maker, since 1999. The OCEANIC OC1 digital dive watch is a titanium case fitted with an air-integrated composite segment-matrix LCD screen, a USB port for the PC interface, and an external LED alarm at 6 O-clock, a visual strategic area for the diver. Its original design is inspired by the sphere qualities, ideal to support deep depths high pressures. This shape had been adopted by underwater pioneers like BEEBE & BARTON, or later by the Engineer Auguste PICCARD, with his bathyscaphes, like the French navy FNRS 3 or the US navy TRIESTE. This project is an example of a global design approach, where strategy, conception, graphic design and marketing have been fully integrated in a single move. A limited edition named "pioneers", black coated, has been released in memory of these deep dive pioneers, and to honor Bob HOLLIS, American Underwater Products founder.
Depuis 1999, Philippe FRASCA collabore avec la société californienne PELAGIC PRESSURE SYSTEMS, pour produire divers instruments analogiques et électroniques. La montre-ordinateur de plongée sous-marine OC1 de la marque OCEANIC est un boîtier titane doté d'un écran composite segments-matriciel, qui intègre la gestion de l'air par récepteur radio, un port USB pour l'interface PC, et une alarme lumineuse externe à 6 heures, zone visuellement stratégique. Son design particulier s'inspire des qualités naturelles de la sphère, idéale pour affronter les grandes profondeurs, qui fut adoptée par les pionniers de l'aventure abyssale « BEEBE & BARTON », et plus tard par l'ingénieur Auguste PICCARD et ses bathyscaphes, comme le FNRS 3 ou le TRIESTE. Ce projet est un exemple de démarche de « design global », où stratégie, conception, design graphique et marketing ont pu être intégrés, sans ruptures. Une édition limitée nommée « Pioneers » en titane noir fut produite en mémoire de ces pionniers de la plongée profonde, et pour honorer l'oeuvre de Bob Hollis, fondateur du groupe American Underwater Products.